Basketball School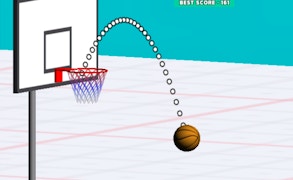 Basketball School
Immerse yourself in the thrilling world of ball games with Basketball School, a captivating basketball game that takes you through a myriad of courts, dunks, and swishes. As a powerhouse in the sports gaming space, Basketball School delivers an adrenaline-fueled experience catering to both rookies and veterans of virtual basketball.
The game features not one but three exciting game modes: arcade, time attack, and distance king, each with its unique twists and turns. In the Arcade Mode, you are provided with ten balls at the start. Your challenge is to make each throw count because if you miss, you lose a ball - a thrillingly punishing yet rewarding concept.
Time Attack, on the other hand, isn't limited by balls but by inexorable ticking of the clock. Here you are put to the ultimate test: scoring as many points as possible before time runs out. This mode delivers an exhilarating burst of excitement that keeps your heart pounding in anticipation.
Last but not least is the intriguing Distance King mode. Designed for sharpshooters, every missed shot decreases your court's length by 1 meter. The game ends twofold: when you become an undisputed Distance King or when there's no more room to shoot from. Talk about raising stakes!
In its essence, Basketball School flawlessly captures the thrill and excitement of real-life basketball games. If you're looking for a sensorial blend of fun and tension that real basketball games offer or simply want to perfect your virtual dunking skills - this game is for you! It's an immersive experience crafted flawlessly for all lovers of sports games and proves to be a slam dunk in every aspect!
What are the best online games?