Basketball.io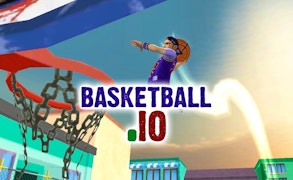 Basketball.io
Entering the vibrant arena of real-time multiplayer ball games, Basketball.io lets players from across the globe experience the thrill of online basketball in a unique .io style. If you're an avid fan of basketball games or just enjoy a fast-paced skill game, Basketball.io is definitely worth checking out.
The game begins with picking up your character from a roster of amusingly designed players, all with their own strengths and quirks. Dashing across the court, dribbling past opponents, and launching your shot to score, is an adrenaline rush you can't resist in this fantastic addition to worldwide .io games.
Skill truly shines in Basketball.io. It isn't about scoring alone; the real challenge lies in outmanoeuvring opponents and seizing openings to dunk that ball into the net. With its fast-paced action and competitive nature, it stands apart from other typical ball games. Just like how every shot counts on a real basketball court, every move you make here has potential for massive impact.
But what makes Basketball.io even more unique is its appealing simplicity combined with its competitive intensity. Its easy-to-learn controls and engaging gameplay make it an ideal pick for both beginners as well as seasoned players craving speed, skill, and strategy.
A shining star among online multiplayer basketball games, Basketball.io undoubtedly brings fresh air to the genre. If you're keen on testing your skills with a round of virtual b-ball, this game is one to try. Whether you're dodging defenders or aiming for that perfect three-pointer, Basketball.io ensures every moment is filled with excitement.
Basketball.io - not just another game among .io or ball games genre but a testament to how simple graphics combined with nail-biting gameplay can create an addictively fun experience. So without further ado, go ahead and take your shot!
What are the best online games?