Basket Slam Dunk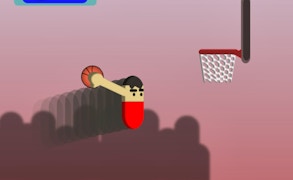 Basket Slam Dunk
Imagine combining the sheer thrill of ball games with the unpredictability of zany physics. Your result would be the electrifying world of Basket Slam Dunk. This outrageous basketball game bends the laws of physics and reality to transport players into an unrivaled gaming experience. It's more than just scoring points on a board, it's about defying gravity, mastering control, and unleashing mayhem in a way that only the best fun games can offer.
The aesthetics are beyond visually pleasing. Basket Slam Dunk sports both beautifully-crafted graphics and an original B.S.O that complement each other to create an engaging atmosphere. The art direction cleverly aligns with the fun and quirky vibe of this game, making each playthrough visually captivating.
This isn't for the faint-hearted or those content with regular skill games. It's a wild ride, where you slam dunk not just with traditional basketballs but also with fantastical balls like a Dragon Ball or a Death Star! Talk about skyrocketing your scores with some interstellar flare! With 12 unique balls to unlock, replayability is through the roof. Each ball brings its quirky game mechanics and design, promising a fresh new experience every time.
The controls are deceptively simple - it's easy to play yet challenging to master. This seamless balance makes Basket Slam Dunk accessible for all ages while maintaining enough depth for seasoned gamers looking for their next challenge.
The icing on top? Your personal record is always within your sight, fueling that relentless pursuit of achieving your best score. Whether you're playing on any touch device on your own or competing against friends, this is one basketball game that keeps you coming back for more.
So do yourself a favor - step onto this crazy court and start slam dunking your way to glory in Basket Slam Dunk!
What are the best online games?