Basket Puzzle!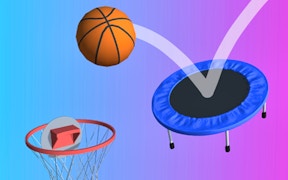 Basket Puzzle!
Step up your game with Basket Puzzle!, an innovative twist on traditional ball games that blends the high-energy thrill of basketball with the strategic intricacies of brain games. This game is a fresh and addictive addition to the line-up of exciting basketball games, promising an engaging experience to all gamers.
Basket Puzzle! has effortlessly elevated classic gameplay, bringing in an assortment of physical elements to amplify your gaming experience. The game offers a fusion of real-life physics principles with virtual sports, making you rethink how you've been playing typical sports games.
In this addictive game, forget dribbling or slam dunking - here you'll need all your wit to design winning strategies using fans, trampolines, conveyors and more. Through its unique drag-and-drop feature, you can place these elements anywhere on the court to guide the basketball right into the basket. By merging the rush of ball games and stimulation of brain games, Basket Puzzle! is a slam dunk when it comes to delivering a deeply engaging gaming experience.
The game offers a plethora of intriguing levels that will keep you hooked for hours on end. Each level brings its own set of challenges calling for different strategies, making every win genuinely gratifying. From die-hard sports enthusiasts to puzzle solvers, gamers of all types will find Basket Puzzle! hard to put down.
In conclusion, if you're in search for new and immersive Addictive Games, look no further than Basket Puzzle! With its eye-catching graphics, realistic physics and compelling gameplay, it's guaranteed to score big with both basketball fans and ardent gamers alike.
What are the best online games?