Basket IO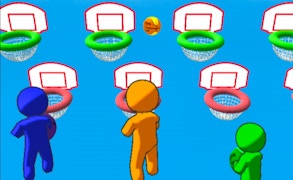 Basket IO
Step onto the virtual court and take control of the bouncing sphere in the adrenaline-inducing world of Basket IO, a game that tests not only your aiming abilities but also your strategic prowess. As a thrilling addition to the realm of ball games and basketball games, Basket IO brings an innovative twist, perfectly suited for those desiring action-packed gaming experience.
If you thought basketball was purely a test of physical prowess, Basket IO will compel you to reconsider. This game is as much about brains as it is about brawn. It's about being nimble, staying one step ahead, and most importantly – becoming a true ball master.
Basket IO encapsulates everything we love about .io genre games – competitive multiplayer action, easy accessibility, and an endlessly addicting pursuit of high scores. The objective is simple: navigate your ball through the succession of basket hoops to accumulate points, consistently hitting high scores to trigger stunning fire effects that serve as a testament to your skill.
The gameplay is easy to grasp but hard to master; you'll need to carefully time your movements and finesse your strategy to consistently outmaneuver your opponents and secure victories. But with every hoop successfully navigated, every new high score achieved, you'll find yourself inching closer to that coveted top spot.
The beauty of Basket IO lies in its fiercely competitive nature – will you falter under the pressure or revel in it? Will you break records or crumble under defeat? The answer lies at the tip of your fingers. With each play, you get closer to becoming a legend on this .io basketball court. So grab the ball and ready yourself for the challenge – are you up for becoming the next ball master?
Basket IO: more than just a game, it's a battle of strategy, skills, and timing.
What are the best online games?