Balloon Slicer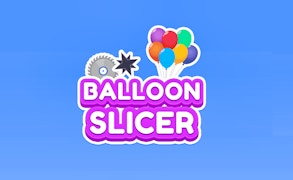 Balloon Slicer
Description
Step into the whimsical world of Balloon Slicer, a delightful puzzle game where precision and quick-thinking skills are key. Armed with a sharp saw, your mission is to pop the balmy balloons spread across diverse levels. Leverage physics and calculate your moves to aim your throw perfectly. As you advance, discover keys that unlock secret chests, revealing exciting new skins and bonus rewards. Navigate through 50 fun-filled levels that promise a hearty dose of entertainment!
How to play
To move forward in Balloon Slicer, accurately aim and launch your saw at the balloons. Defy gravity as you jump off walls to achieve the perfect angle for your slice. The key to progress lies in earning stars, which are awarded based on your performance. Additionally, find hidden keys within levels that unlock secret chests containing bonus rewards and stunning skins.
Tips and Tricks
Becoming skilled at Balloon Slicer requires understanding of angles and timing. Practice aiming for chain reactions for maximum balloon pops with one throw. Keep an eye out for hidden keys - they lead you to secret chests that can significantly boost your score or provide fabulous skins for your saw!
Features
50 unique, challenging levels to conquer.
Engaging gameplay mechanics built around angles and precision.
An array of rewards including stars, bonus items, and dazzling skins.
Mysterious keys unlocking secret chests scattered throughout the course.
Lively graphics that add to the immersive gaming experience.
What are the best online games?
Tags