Ball Thrower hyper casual game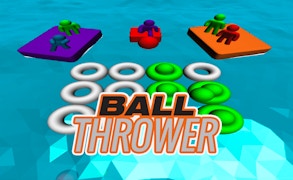 Ball Thrower hyper casual game
Description
In Ball Thrower Hyper Casual Game, you command a stickman in a thrilling ball toss competition against the AI. With three endlessly rotating layouts, your aim is to fill as many rings as possible to emerge victorious. Engage in a unique gaming experience with its inventive Curvy Swipe System, letting you bend the ball's trajectory using your fingers. The game also features a rewarding Chest Manager System, allowing you to earn coins by winning matches.
How to play
To play, swipe your finger across the screen to launch the ball towards the rings. Experiment with different angles and curvatures to control the ball's path thanks to the intuitive Curvy Swipe System. Outperform the AI player by filling more rings. Accumulate wins to fill your chest in the Chest Manager System, and gain valuable coins that can enhance your gameplay.
Tips and Tricks
Practice different swipe techniques to perfect controlling the ball's trajectory. Experiment with speed, arc, and angle for better precision. Keep an eye on your AI opponent's strategy and refine yours accordingly. Remember, filling more rings gives you an edge over your opponent and helps boost your chest value.
Features
Versatile Curvy Swipe System for enhanced gaming experience.
Rewarding Chest Manager System that offers coins for every match won.
Challenging AI opponent.
Diverse level layouts that add variety to each match.
Skill-based gameplay promoting strategic thinking.
What are the best online games?