Ball Sort Puzzle Game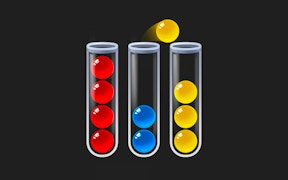 Ball Sort Puzzle Game
Feast your eyes and test your brain-power with the latest entrant in the realm of addictive ball games - Ball Sort Puzzle Game. This game intersects our childhood love for coloring games with the excruciating thrill of brain games, forming a perfect concoction to keep you entertained!
The game premise is deceptively simple. It tasks you to move the balls around, sorting them into separate tubes. The catch? Each tube can only house balls of identical colors. With its intuitive interface and visually stunning design, Ball Sort Puzzle Game proves the old adage; simplicity is the ultimate sophistication.
The brain games aficionados will appreciate the increasingly complexity as you ascend through the levels. Your grey cells will be put to the test as you strategize and plan moves ahead, ensuring no tube is left with mismatched ball colors. The euphoria of successfully sorting a challenging set of balls, I assure you, is second to none!
But this game isn't just for those seeking mental gymnastics. If you found joy in coloring books as a child, you'll undoubtedly fall in love with this unique blend of coloring games. Watching similar colored balls nestle together as you sort them into tubes is oddly satisfying; it's like witnessing a disorganized rainbow transform into a perfectly delineated spectrum.
In conclusion, Ball Sort Puzzle Game masterfully blends elements of ball games, brain games and even coloring games into an addictive package sure to challenge your brain and captivate your senses. Despite its simplicity, it promises hours of engrossing gameplay that serves both as an effective brain teaser and a soothing visual treat! Play now and dive headfirst into this colorful world!
What are the best online games?