Baby Appa Tile Puzzle Frenzy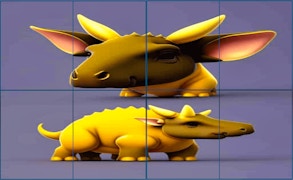 Baby Appa Tile Puzzle Frenzy
Description
Prepare for a unique brain-twisting experience with Baby Appa Tile Puzzle Frenzy. In this compelling puzzle game, the player is presented with a scrambled image that needs to be reorganized by shifting tiles around the screen. The ultimate goal is to recreate the original picture of Baby Appa from the jumbled image by calculating optimal movements and strategizing placements. Are you up for the challenge?
How to play
To play, touch or click on individual tiles to slide them into an empty space. Your objective is to piece together the fragmented picture of Baby Appa. In each level, you'll be presented with a new puzzle which increases in complexity as you progress through the game. Persistence and strategy will be your keys to success.
Tips and Tricks
To excel at this game, it's important to not rush; take your time examining the entire image before making moves. Rely on visual memory, recalling what the completed image looks like as you rearrange tiles. Working on smaller sections independently can also make larger puzzles more manageable.
Features
Endless puzzles: With an array of levels, each increasing in difficulty, you'll never run out of challenges.
Mind-bending gameplay: Reinforce cognitive abilities with this engaging brain workout.
Friendly interface: The game's clean design and easy-to-use controls allow for smooth gameplay.
Showoff Your Achievements: Mastering levels can unlock achievements and ranks to showcase your puzzling prowess.
What are the best online games?
Tags