Azad Cricket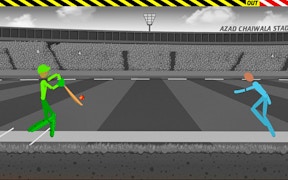 Azad Cricket
If you're a fan of cricket games, then "Azad Cricket" is a game you must try. Presented by Azad Chaiwala, Azad Cricket has taken the world of international cricket games by storm. Quite unlike any other ball games out there, this game propels the genre to dizzying new heights.
The game is all about Fours and Sixes, and places you in the shoes of the last man standing with the responsibility to clinch the World Cup for your country. This is not just another cricket game, it's an adrenaline-charged cricket championship where every run matters, making it one of the best interactive world cup games.
In this wcc game, it's not just about scoring maximum boundaries, but also about playing a wide range of shots and proving your mettle as a cricketer. You can select from seventeen teams in this mobile cricket game and rename them according to your liking. The 2D environment enhances the gaming experience and brings a thrilling level of realism to these cricket super-tournaments.
Azad Cricket doesn't come with complex controls, making it easy for both beginners and seasoned gamers to enjoy smashing sixes in all directions. But beware, in pursuit of hitting sixes don't hit a half shot. Can you rise to the challenge and bring home the World Cup for your team and country?
The challenge is on! Get ready to take center stage as millions of fans are counting on you. With its bite-sized action and close encounters that'll have you on edge every second, Azad Cricket is certainly a must-play among all other cricket games. Let's find out if you've got what it takes to be a true cricket champion!
What are the best online games?