Aquapark.io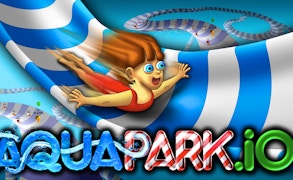 Aquapark.io
With laughter echoing off the water and the thrill of competition filling the air, Aquapark.io represents a new wave in the realm of fun games. It's a little bit crazy, a lot entertaining, and quite possibly the most enjoyable way to cool off from reality's scorching heat.
In Aquapark.io, competitive spirit and strategy are what you need to win. This isn't your ordinary leisurely water slide ride; it's an adrenaline-pumping race against other online players where only the bravest and smartest triumph. With every twist and turn of these massive water slides, there's an opportunity to overtake your competition or knock them off-track completely.
The game's mechanics stand out effortlessly amidst other .io genre games. You can literally jump off the track to land further down, skyrocketing you ahead of other players or just stick with pushing them off for a more wicked delight! Overtaking or eliminating – it all depends on your style of play.
Aquapark.io is not just about racing though, it's also about surviving the wild twists and daring jumps. Here's where attention to detail matters! Watching for opportune moments can make a remarkable difference between victory and defeat. But at the same time, being too aggressive can send you tumbling into oblivion.
In conclusion, Aquapark.io is a blast from start to finish. The combination of fun mechanics, competitive racing, tactical manoeuvring and pure fun elevate it from being merely another .io game into an exhilarating experience that will have you coming back for more again and again - metaphorically pushing everyone else out of your way as you make a beeline for this awesome fun game.
What are the best online games?
TAGS