Animals Pairs Match 3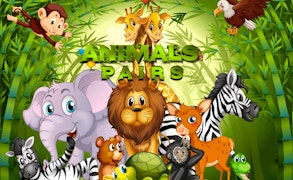 Animals Pairs Match 3
Description
Enter a world of cute and captivating creatures in Animals Pairs Match 3! This fun-filled puzzle game encourages children to engage their minds by matching three or more animals of the same kind. It's a colorful and entertaining challenge designed to stimulate cognitive development while providing hours of entertainment. Game offers various levels of cognitive excitement from easy to challenging.
How to play
The game controls are simple and intuitive. Just click or touch the screen to select an animal and then choose an adjacent animal you want it to swap places with - if a match of three or more is made, they will disappear! The aim is to clear the board. As you progress through the levels, the puzzles become more difficult.
Tips and Tricks
To maximize your score, always strive for making foursome or fivesome matches, these result in special animals with powers that can clear entire rows or columns. Plan your moves strategically, don't just match randomly!
Features
Puzzle-packed gameplay: Lots of levels with increasing difficulties to keep kids engaged.
Cute animal design: Well-drawn and colorful visuals that can captivate children.
Educational: Helps in enhancing cognitive skills of the child.
Suitable for all ages: Easy-to-understand controls make this game enjoyable for players of all ages.
What are the best online games?