Animal.io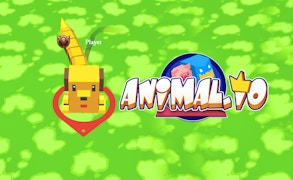 Animal.io
Are you in search of an exhilarating multiplayer online game that marries the thrill of competition with the charm of wildlife? Then look no further because Animal.io, a champ amongst animal games, provides gamers a unique opportunity to embark on an adrenaline-infused wildlife adventure.
The premise of this game is simple yet addictive: empower your animal avatar and strategically maneuver it to outwit and eliminate your opponents by driving them off the platform. The true mastery, however, lies in leveraging your animal's uniquely potent tail to sweep adversaries off their feet.
In the sprawling arena of Animal.io, survival is determined by both wit and size. Consuming meat boosts your size, imbuing you with higher resilience and strength. But size isn't everything! A good player knows when to chomp down on a juicy hamburger, extending their tail's length - their true instrument of power. And for those find themselves cornered, a mushroom serves as the perfect escape tool, temporarily reducing your size for enhanced speed.
The scintillating experience doesn't end there! Triumph in battles and you get rewarded with an opportunity to unlock more adorable animals. Choose from a plethora of delightful animals each bringing along its own unique playing style, keeping every round fresh and engaging.
All these features make Animal.io stand out even amongst the best collection of skill games.
In conclusion, whether you're hankering for some friendly competition or eager to display your tactical brilliance, Animal.io is guaranteed to satiate that gaming thirst. It's not just about being the biggest beast but also the smartest – so gear up for some fast-paced action in this wild world!
What are the best online games?
Tags