Among Them Puzzles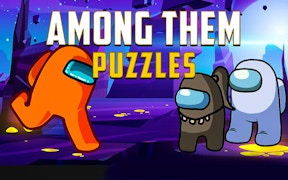 Among Them Puzzles
Immerse yourself into the fascinating universe of Among Them Puzzles, an innovative merge between the worlds of brain games and games for kids that promises to stimulate young minds with its intriguing challenges. Every stage of this enthralling game is a new riddle waiting to be cracked, a complex puzzle set in the familiar world of Impostors and Crewmates.
Experience the thrill of 12 gripping puzzles with vibrant imagery sourced directly from the beloved game, Among Us. In Among Them Puzzles, you are not just tasked with piecing together puzzles, you get to change your character's position, adding another layer of challenge. The adventure gets more intriguing as you drag parts up to different positions, reshaping your strategy with every move.
The game offers increasing levels of difficulty with each new puzzle solved, testing your cognitive skills and keeping you engaged throughout the gameplay. The excitement does not end there; every level comes with limited time for completion forcing you to think on your feet and assess your options swiftly.
In this ever-evolving realm of brain games, Games for Kids, Among Them Puzzles strikes a perfect balance between fun and learning. Each round encourages strategic thinking and problem-solving skills while immersing kids in an environment they know and love.
To sum it up, Among Them Puzzles couples the thrilling narrative of impostors and crewmates with challenging puzzles, delivering a stimulating gaming experience. This innovative combination makes it a standout in the myriad of brain games for kids. Completed a level? Brace yourself for the next one! This is an immersive gaming journey that keeps getting better!
What are the best online games?
Tags