Ambulance Rescue Driver Simulator 2018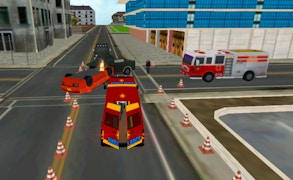 Ambulance Rescue Driver Simulator 2018
Experience the pulsating rush of adrenaline as you dive into an enthralling world of racing with the Ambulance Rescue Driver Simulator 2018. This game is the epitome of simulator games, cleverly infusing elements from various categories such as driving games, parking games and, most importantly, car games. It's a sensational joyride you wouldn't want to miss.
This path-breaking game shatters the conventional mould by redefining what it means to race. No longer are you simply competing against time or other racers, but instead, are thrown into a high-stakes mission of saving lives. The thrill of racing is skillfully intertwined with the noble task of rescuing the innocent and injured.
The game alights with an intense scenario where players must navigate their way through traffic accidents, with the nerve-racking pressure of having to transport patients to a hospital in time. The lifelike ambulance sirens add another layer of hyper-realism that immerses you deeper into this dramatic rescue saga. This goes beyond just speed, pushing your reflexes and driving skills to their ultimate limit.
Ambulance Rescue Driver Simulator 2018 turns each player into a beacon of hope by tasking them with saving human lives – a heavy responsibility that comes with immense gratification. Boasting top-notch 3D graphics, this ambulance driving simulator game brings forth an unparalleled driving experience marked by urgency and precision.
The intensity doesn't stop at just driving fast - there's also the element of strategic parking in order to ensure safe unloading and loading of patients. This proves that Ambulance Rescue Driver Simulator 2018 truly stands as an all-rounded masterpiece which seamlessly merges different game genres into one electrifying package.
In conclusion, Ambulance Rescue Driver Simulator 2018 is not just a game; it's an exhilarating journey filled with heart-stopping moments and life-saving missions. To all gaming enthusiasts out there seeking for some action-packed fun - this one's for you.
What are the best online games?