Ambulance Mission 3D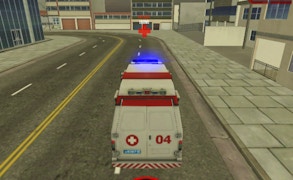 Ambulance Mission 3D
Get ready to hear sirens and tire screeches echo through your speakers as you play Ambulance Mission 3D. Seamlessly combining elements from popular driving games and intense simulator games, this title takes you for a headlong dive into a city under siege by a relentless virus. The stakes? Life itself.
The core of the game revolves around your role as an ambulance driver, thrust into the throes of an urban disaster. Imagine the fast-paced nature of your favorite car games, but with a hauntingly human element. Every decision you make, every turn you take, directly translates into how fast patients get to hospital. And with the virus spreading like a wildfire in dry grass, time is the most precious commodity.
But that's not all! Along with the high-pressure drive to save lives, Ambulance Mission 3D also incorporates elements from strategic parking games. Navigating through mazes of jam-packed city streets and getting the ambulance parked just right is all part and parcel of your journey. The adrenaline rush is comparable to threading a needle in a ticking time bomb scenario!
Ambulance Mission 3D isn't just running red lights; it's about precise maneuvers and deft handling akin to rally car racing. It's one thing to handle speed; it's another entirely to control it under pressure. And that's what sets this game apart from other typical racing simulations.
To put it plain and simple: Ambulance Mission 3D tests your acumen for speed, precision, strategy, and keeps you on edge with its breathtaking narrative. It is more than just an entertaining driving simulator; it encapsulates an experience that stays with you long after you've taken off your virtual driving gloves. Track this game down if you're looking for heart-thumping moments behind a gaming steering wheel!
What are the best online games?