Amazing Word Fresh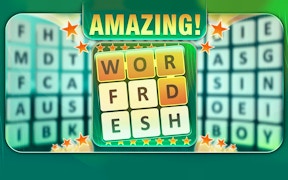 Amazing Word Fresh
Engage your gray matter and dive into the delightful word finding chaos of Amazing Word Fresh. This stimulating puzzle game serves up a bona fide feast for all you word-smiths and brain game enthusiasts out there.
For all fans of well-crafted word games, Amazing Word Fresh offers a unique blend of Scrabble and Boggle, merged into one. The challenge lies in swiping over letters to create words, a simple task that rapidly progresses to a frenzied search within the alphabet soup on your screen.
The core mechanics of Amazing Word Fresh are simple yet enthralling, testing not only your vocabulary knowledge but also your quick-thinking skills. The thrill and excitement that builds as you drag over the letters to construct words are richly rewarding.
Lovers of brain games, be prepared to be captivated. Amazing Word Fresh takes the pleasure in word games to a whole new level by including a time challenge, making each round feel like a thrilling race against the clock.
The visual design is alluring yet unobtrusive, allowing the focus on what really matters - the letters and words unfolding across your screen. Moreover, the responsive controls further contribute to an immersive gaming experience.
In conclusion, if you're looking for an intellectual work-out or simply adore word games and puzzles, Amazing Word Fresh deserves a spot on your gaming wish list. Prepare to flex your mental muscles and embark on this vibrant letter jumble journey!
What are the best online games?
TAGS