Amazing Bubble Breaker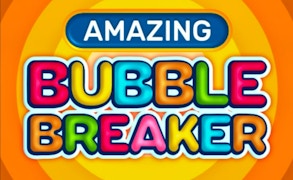 Amazing Bubble Breaker
Are you a fervent fan of the ever-popular genre of puzzle games? Do addictive challenges that test your strategic skills keep you engrossed for hours? Well, your search for the next gaming fixation ends at Amazing Bubble Breaker; a unique blend of ball games and match 3 games that offers a thrilling gameplay experience.
The game's title doesn't just casually toss around the term "amazing"; it truly lives up to it. The gameplay intricacies of Amazing Bubble Breaker are designed to captivate and challenge puzzle enthusiasts, from novices to veterans. The game isn't just about matching colors or popping bubbles in the easy mode. Instead, it raises the stakes with its medium and hard modes that will surely test your tactical limits and cognitive agility.
Unlike average match 3 games, Amazing Bubble Breaker isn't just about swapping gems or candies; it's about breaking bubbles in a strategic sequence that demands finesse and forward-thinking. The element of risk brilliantly woven into its gameplay, making each move crucial for your progress.
This game has masterfully reinvented traditional ball games, infusing them with fresh mechanics that will keep you on your toes. So, if you're tired of the same old 'shoot and score' routine, this is a must-try departure from the ordinary.
Every feature in Amazing Bubble Breaker is meticulously crafted to provide an addictive gaming experience. From its striking graphics to the suspense-filled sound effects, every facet is an element of surprise waiting for your next move. Not only does it excel in visual appeal, but also offers challenging levels which raise the bar higher as you progress through them.
In conclusion, Amazing Bubble Breaker opens up an exciting world where strategy meets fun. This entrancing fusion of puzzle games, ball games, and match 3 genres makes it impossible for any gaming enthusiast to ignore. So gear up for a mind-bending bubble-breaking adventure!
What are the best online games?