Adventure Joystick Winter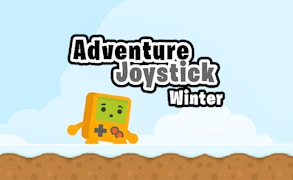 Adventure Joystick Winter
Description
Embark on a thrilling quest in Adventure Joystick Winter, the 2nd installment in the adored joystick series. With winter closing in and snowflakes beginning to swirl, your mission is to gather all the ores scattered around. But beware, as dangerous obstacles like spikes and spinning wheels are present to hinder your progress. Reaching the door with the collected key is the ultimate goal.
How to play
The controls for this game are simple yet immersive. D-pad (WASD) keys or Mobile touch control can be used to move about in the game world. Explore, dodge deadly obstacles, collect all ores, retrieve the key and reach the door to progress to higher levels.
Tips and Tricks
Carefully plan your movements to avoid hazards and swiftly collect ores. Remember, not every ore is easily accessible – some require avoiding spikes or dodging moving wheels. Wisely use mobile touch controls or WASD keys for precise navigation.
Features
Packed with thrilling adventures.
User-friendly controls - WASD keys or Mobile touch control.
Diverse environments filled with challenges.
A palette of vibrant pixel graphics that enhances the gaming experience.
What are the best online games?