Ace Moto Rider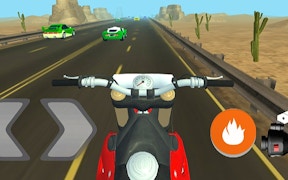 Ace Moto Rider
Calling all speed demons and lovers of motorcycle games, Ace Moto Rider might just be your new obsession! This thrilling ride through the 3D racing world brings the visceral sensation of motorbike driving to life in an immersive first-person perspective that sets it apart from other simulator games.
The game doesn't merely take you for a leisurely ride in the countryside, but truly tests your mettle with its core mechanic - skillful avoidance. Each level presents a highway bustling with vehicles, demanding razor-sharp reflexes to navigate safely. The stakes are high, as the slightest touch against another vehicle brings a swift end to your progress.
Ace Moto Rider shines as one of those driving games where your adrenaline fuels your pace. Yes, you have nitro at your disposal to boost your speed and blaze through levels, but remember - haste makes waste. The nitro-induced speed can indeed be a double-edged sword, making it all the more difficult to avoid incoming vehicles.
Apart from offering exhilarating gameplay and incredible graphics, this game also stands out as one of those unique Skill Games. Your ability to judge distance and speed, coupled with lightning-fast reactions will determine your success. It does not matter how fast you can go if you cannot control it under pressure.
In conclusion, whether it's the thrill of high-speed motorcycle racing you crave or the satisfaction of mastering challenging Skill Games, Ace Moto Rider promises an unmatched experience on every front. Get set for a wild ride!
What are the best online games?