4096 3D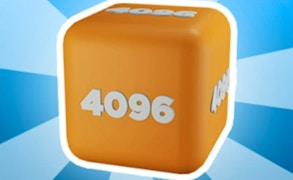 4096 3D
If you're a fan of puzzle games, number games, and math games, then the magnetic allure of 4096 3D will unquestionably draw you in. A riveting addition to the renowned realm of 2048 games, this newly minted addition is poised to stir your cognitive prowess, tickle your strategic sensibilities, and immerse you in an addictive 3D world of numerical riddles.
The premise of 4096 3D taps into the primal appeal of brain games - the player is required to slide, change the position of a cube, and adeptly shoot it towards other cubes. A simple concept beautifully executed in three-dimensional space. The gameplay with its intuitive yet challenging mechanics makes it an immersive excursion for any puzzle addict.
The game doesn't just emphatically test your logic and problem-solving skills but also engages your spatial intelligence. Its unique audiovisual elements combined with a meticulously designed 3D environment offer a refreshing spin to familiar gameplay mechanics. Everything contributes towards making the process of figuring out number combinations feel like a truly exploratory venture.
4096 3D isn't just another puzzle game; it's a carefully crafted jigsaw blending art, science and unadulterated entertainment into one comprehensive package that guarantees hours of stimulating gameplay for any fan of brain games or math games. If you have been on the hunt for something unique within the number games genre, then take up the challenge presented by 4096 3D. It brilliantly marries simplicity with complexity and challenges players to think differently.
Gamers, if you are ready to put your grey matter through intense mathematical gymnastics and experience what it truly means to be absorbed by a puzzle game, then give 4096 3D a whirl. This is no ordinary 2048 game clone; instead, it's an invigorating breath of fresh air in an often-repetitive genre.
What are the best online games?