2048 Lines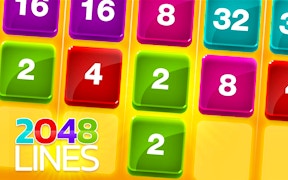 2048 Lines
If you're on the hunt for an addictive and stimulating puzzle game, look no further than 2048 Lines. This number games genre entry manages to fuse fast-paced gameplay with intellectually challenging elements, making it an absolute must-play for all brain games enthusiasts.
2048 Lines is far more than the ordinary 2048 games on the market. The aim of this game is not just about combining enumerated cubes, but doing so under time constraints thereby requiring both quick-thinking and strategic maneuvers. With that in mind, 2048 Lines empowers players to engage their logical thinking skills at a much deeper level.
The unique selling proposition of 2048 Lines lies in its goal to creatively connect cubes in order to achieve the highest score possible. This isn't a mere test of your mental agility; it's also a challenge of your ability to think strategically under pressure and make swift decisions. It echoes the labyrinth-like complexity of a Rubik's cube but with an exhilarating time factor thrown into the mix.
This brain-game doesn't just challenge your ingenuity, but it also amplifies your cognitive function by pushing you to solve meticulously-crafted numeric puzzles under time pressure. The premise may sound simple enough, but don't be fooled – this game requires maximum concentration and keen strategic planning.
To sum up, 2048 Lines is a puzzle game that takes the classic 2048 formulae and breathes new life into it by introducing speed as a gameplay mechanism. Its ability to successfully merge number games with brain games makes it a unique entrant in the world of online gaming. If you're up for testing your mental prowess while having some fun along the way – play "2048 Lines" now for free and share your high scores!
What are the best online games?