2048 Balls 3D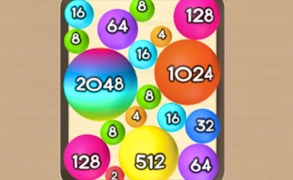 2048 Balls 3D
Step into a whole new dimension of gaming with 2048 Balls 3D, an enthralling blend of puzzle and number games that will keep you hooked for hours. Are you a fan of ball games, or do you have a fascination for math games? Look no further – this game beautifully fuses both genres in one place.
Merging the addictive nature of 2048 games with the light-hearted fun found in Hyper Casual Games, 2048 Balls 3D offers an exceptional gaming experience that reaches beyond your regular puzzle game. The simple task? Drop balls, merge them and see how far you can go. Sounds easy? You might want to think again.
The charm of this game lies in its uncomplicated yet challenging gameplay. It demands strategic thinking and numerical skills, subtly engaging the player's mind under the guise of a fun-filled gaming activity. Just when you think you've caught up with the pace, the game throws in higher numbers and harder levels to merge. Can you rise to the challenge?
>From its sleek design to its stimulating gameplay, 2048 Balls 3D ticks all the right boxes for an exhilarating gaming affair. Whether it's your first-time playing puzzle games or you're a veteran with countless numbers to your name, this game will undoubtedly reignite your passion for puzzles.
In conclusion, 2048 Balls 3D successfully weaves together elements of math games, ball games, and especially 2048 games into one captivating package. If you are on a quest for an intriguingly clever number puzzle that doubles up as a stress buster, just drop those balls and start merging your way towards victory! An absolute must-try in the realm of hyper casual gaming.
What are the best online games?