2048 Balls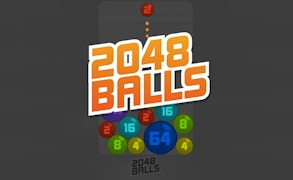 2048 Balls
Welcome to the ultimate review of the captivating world of 2048 Balls, a highly addictive addition to the sphere of 2048 games. This game unifies the thrill of ball games and the intellectual stimulation of number games, wrapped up in the effortless simplicity of a Hyper Casual Game.
Dive headfirst into a hypnotizing universe where you are dropping and merging balls. The undeniable allure of math games and the strategic thrill hidden within every move will have your neurons fizzling with excitement. The objective? Harness your numerical prowess to reach 2048, the magical number.
The design of 2048 Balls is brilliantly minimalistic, keeping your focus razor-sharp on those all-important numbers. You are not just playing a game - you're crafting a strategy, calculating possibilities, and making swift decisions in this dynamic fusion of number games and ball games.
Hyper Casual Games like 2048 Balls offer pick-up-and-play accessibility that will keep you coming back for more. Whether you have five minutes or an hour to spare, delving into this immersive number puzzle will get your grey cells firing on all cylinders. And remember - reaching 2048 is just the beginning. Can you outdo yourself?
If you love number crunching fun entwined with balls dropping suspense, then pack your bags for an adventurous journey into the realm of 2048 Balls. This is not just a game - it's an arena where math lovers meet strategy buffs. If that's what tickles your fancy, hop in because we're ready to drop some balls!
In conclusion, 2048 Balls stands tall in its genre as an engaging fusion of light-hearted fun and invigorating mental workout. The marriage between puzzle games, math games, and hyper casual gaming has never been so seamless or fun-filled!
What are the best online games?