2 Player Battle Car Racing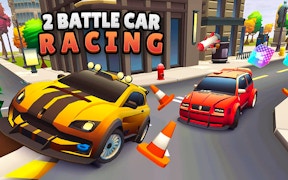 2 Player Battle Car Racing
Rev up your engines, adrenaline junkies! Today, we're diving deep into the heart-thumping world of 2 Player Battle Car Racing. It's not just another addition to the realm of car games, but a thrilling testament to high-speed racing and strategic combat on the road. This extraordinary blend of driving games and battle games doesn't just test your agility behind the wheel but forces you to outsmart your opponents at every twist and turn.
Fans of both Skill Games and 2 player games will appreciate the balance between pure racing prowess and cunning strategy this game offers. In 2 Player Battle Car Racing, speed is everything, yes, but it's not all about who crosses the finish line first. Victory is as much about outmaneuvering your opponent as it is about outrunning them.
The selection of enhancers – Bomb, Canon, Flash, NITRO, Oil, Rocket, Shield – adds a layer of complexity that brings an extra shot of excitement to this perfectly crafted racer. Whether you're zooming ahead with a boost from a NITRO power-up or causing chaos for your rival's ride with a well-placed Oil slick – these juicy tidbits transform 2 Player Battle Car Racing into more than "just" among other car games on offer.
The game's main selling point here isn't just its exciting driving mechanics or its pulse-pounding power-ups; it's the thrill of matching wits with another player in real-time. Visually captivating and mechanically challenging, 2 Player Battle Car Racing is an adrenaline-boosting joyride gamers will not want to miss!
In conclusion, if you're looking for a break from traditional racing fare and are ready to test your mettle against others in an exhilarating fusion of speed and strategy then don't sleep on this grand world of racing - welcome to 2 Player Battle Car Racing.
.
What are the best online games?