2 For 2048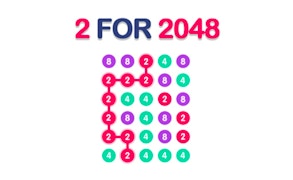 2 For 2048
If you're a fan of brain games, number games, and math games, then get ready to be hooked on the newest addition to your game library, 2 For 2048. Drawing from the addictive mechanics of other popular 2048 games, this newly released title is a perfect blend of casual core number puzzle and number blast gameplay that will keep you coming back for more.
At its core, 2 For 2048 is about strategically connecting number dots. The game presents a simple yet engrossing challenge: connect same numbers in dots either vertically or horizontally to gain points. However, beneath this straightforward premise hides layers of strategy and brain-teasing fun.
Every decision matters as you traverse through the grid, matching and popping digits to boost your score. With each move you make, a new layer of depth unfolds, ushering you into an enthralling world of numerical puzzles. And trust me when I say that the satisfaction that comes from seeing your numbers grow and multiply is next-level exhilarating!
The combination of quick-fire rounds and slowly building strategies in 2 For 2048 will truly test your mental agility in the most enjoyable way imaginable. This game is not just about quick thinking; it's also about long-term strategies that can reward you with insane high scores. If you've been on the hunt for stimulating brain games, this might just be the end of your search.
In conclusion, whether you're looking to sharpen your brain or simply pass the time with some fun number blasting action, 2 For 2048 is an exceptional choice among 2048 games. Its simple yet captivating gameplay proves that sometimes less is more when it comes to designing engaging math games.
What are the best online games?