Zumba Ocean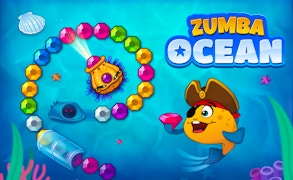 Zumba Ocean
Description
Zumba Ocean is an engaging arcade game that plunges you into a vibrant underwater world. Utilize your strategic skills to aim and shoot vibrant gems at their matching counterparts with a goal to create a combo of three or more. Each level presents a novel challenge to test your speed and accuracy. You are sure to get hooked on this gem-matching puzzle extravaganza.
How to play
The game's controls are simple and straightforward. Aim with your mouse or touchpad and left-click or tap to release gems. Your objective is to match three or more gems of the same color by skillfully shooting them in the correct trajectory. To progress, aim for a three-star rating in each level by effectively clearing all gems.
Tips and Tricks
Become an advanced player by taking advantage of the game's mechanics. Look out for possible combo matches, as they give bonus points and help finish levels faster. Always aim for the collectively bunched gems rather than lone ones. Lastly, keep an eye on the level timer, beat it by making quicker decisions.
Features
Vibrant Graphics: Enjoy visually appealing underwater themes throughout the gameplay.
Engaging Levels: The game offers numerous unique levels with increasing difficulty.
Achievement System: Challenge yourself to attain a three-star rating in every level.
Friendly Controls: Easy-to-use aiming and shooting mechanism, suitable for all age groups.
What are the best online games?