While We Sleep: Slendrina Is Here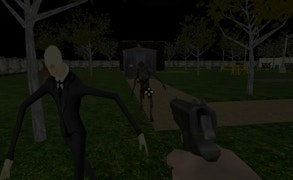 While We Sleep: Slendrina Is Here
Are you a fan of gun games, survival games, or hauntingly fun horror games? If your answer is a resounding yes, then get ready for a chilling adventure with "While We Sleep: Slendrina Is Here." This adrenaline-pumping ride combines elements of gun gaming, survival tactics, and horror-thrillers into an engaging narrative that will keep you on the edge of your seat.
Built around the intriguing concept of battling evil in our sleep, this game piques interest right from the outset. It's not just another one of those run-of-the-mill granny games. With elements reminiscent of scary games, it instead transports you to a park at nighttime where your mission is to find 6 keys and defeat the sinister Slendrina.
"While We Sleep: Slendrina Is Here" expertly weaves fear and thrill into an immersive gameplay experience. You're not just playing a game; you're living a nightmare. Slendrina's presence pervades throughout, making the stakes palpably high and charging each moment with suspense. It's survival gaming at its most eerie.
The game demands strategic thinking, combined with swift gun-slinging action to triumph over Slendrina and her minions. The mission is daunting, but remember– it's kill or be killed. The scare factor is cranked up high with atmospheric lighting and creepy sound effects that are sure to send chills down your spine.
In summary, "While We Sleep: Slendrina Is Here" is a riveting blend of genres that horror and gun gaming enthusiasts will surely enjoy. The survival challenges are intense, and the horror element is engrossingly creepy. So get ready for some exhilarating scares as you face off against Slendrina– if you dare.
What are the best online games?