Tile Master Puzzle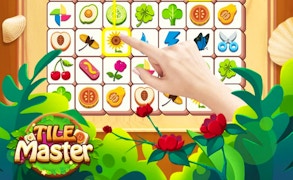 Tile Master Puzzle
Description
Immerse yourself in the exciting world of Tile Master Puzzle, a captivating brain game that combines the elements of matching and mahjong. This game flaunts an impressive collection of challenging levels where players need to match similar tiles in pairs to clear the game area. Achieve mastery in observation, concentration, and decision-making skills while having a fantastic gaming experience.
How to play
To play Tile Master Puzzle, simply tap on identical tiles to match them, resulting in their removal from the board. The main catch is that you can only match free tiles, i.e., ones not covered by other tiles or blocked on both left and right. Your progress depends on your ability to strategically clear all tiles within a limited time frame or moves.
Tips and Tricks
Aim for combos by planning ahead and matching more than one pair quickly, this yields higher points! Focus on removing stacked or blocked tiles first to open up more possibilities for matching. Use power-ups wisely for difficult scenarios - they can save your game by giving you extra time or moves.
Features
Spectacular graphics and smooth interface for an enhanced gaming experience.
An array of challenging levels each with unique layouts and designs.
A timer feature to increase the level of difficulty and thrill.
A score system that promotes strategic thinking and faster decision-making.
Various power-ups available at your disposal.
What are the best online games?