Taxi Driver Game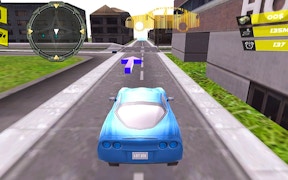 Taxi Driver Game
If the thrill of racing and the precision of driving games gets your adrenaline pumping, then Taxi Driver Game is an interactive masterpiece you just can't afford to neglect. Immerse yourself in this exhilarating blend of excitement and real-world driving dynamics that's designed to challenge your skills and keep you on your toes.
The title itself evokes a sense of intrigue, adventure, and high-speed chases. The game pulls you into a world where every second count, every sharp turn could be decisive, and the thrill of maneuvering through traffic is unmatched. With multiple levels on offer, the game ensures your journey from being an amateur cabbie to a seasoned taxi driver is nothing short of dramatic.
A major highlight of Taxi Driver Game is its impressive fleet of two distinctive cars. Whether you're a fan of classic sedans brimming with vintage charm or modern muscle cars with raw power under the hood - there's something for every heart here. The developers have put in significant effort into rendering the minute details in each car model, making them feel authentic right down to their respective engine roars.
Your path to glory won't be easy. Each level brings forth unique challenges that push your driving skills to the test. Sharp bends, unpredictable AI traffic, changing weather conditions - each obstacle is meticulously designed to keep you engaged and constantly refining your driving skills.
To sum it up, Taxi Driver Game seamlessly pairs the fast-paced action of racing games with the calculated precision required in skill games. It's an amalgamation of powerful cars, thrilling chases and realistic driving mechanics that promises an unparalleled gaming experience. Buckle up and gear up for this wild ride through euphoria!
What are the best online games?