Super Space Match 3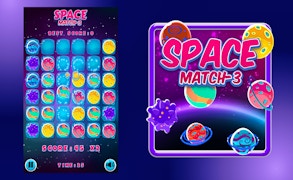 Super Space Match 3
Description
Jump into the world of Super Space Match 3, an engaging and fun-filled puzzle game. Set in the vast expanse of the cosmos, it challenges you to match and eliminate numbers in a unique setting. With its bright, neon graphics and addictive gameplay mechanics, it's a thrilling journey through unknown galaxies.
How to Play
Journey through the stars is simple. You just use your mouse or touch screen to select a number and then choose another adjacent one to create a match of at least three. The more numbers you match in one go, the higher your score will be, propelling you forward in this cosmic adventure!
Tips and Tricks
To master Super Space Match 3, always plan ahead. Try anticipating the next possible matches before making your current move. Also, focus on matching higher numbers first as they yield greater points. Remember that achieving combos can boost your score massively!
Features
Dynamic Puzzle Gameplay: Offers a unique twist on traditional Match-3 games with its number-based system.
Cosmic Graphics: Captivating space-themed graphics that transport you into different galaxies.
Addictive Scoring System: Encourages players to devise strategies and aim for high scores.
Friendly for all ages: Simple controls make it easy for players of all ages to enjoy.
What are the best online games?
Tags