Space Match3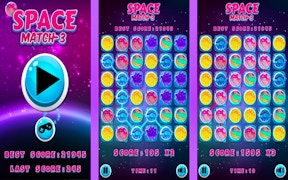 Space Match3
Immerse yourself in the mesmerizing cosmic realm with Space Match3, an incredibly addictive and brain-teasing match 3 game that will keep even the most seasoned puzzle enthusiasts on their toes.
Step into an interstellar world of challenging logic, strategy, and endless fun. Space Match3 not only taps into the universal love for match 3 games but elevates it by mingling it with intriguing brain-teasing elements. Each level is intricately designed, compelling you to put on your thinking caps and connect the same space elements to achieve lofty scores.
The beauty of Space Match3 lies in its simplicity and depth. The game starts off easy, turning beginners into ardent fans and then gradually ramps up the difficulty level, making it equally appealing to connoisseurs of brain games. Its fluid gameplay mechanics, marvelous visual aesthetics, and enchanting sound effects make this experience all the more immersive.
Apart from being a thrilling match 3 puzzle game, Space Match3 also doubles up as a stimulating brain exercise. As you progress through the game, you'll find yourself not just transfixed by its addictive gameplay but also impressed with how it subtly sharpens your problem-solving skills. In essence, Space Match3 is a fantastic fusion of fun and cognitive development.
In conclusion, Space Match3 postulates a new benchmark in match-3 and brain games genres. It's a perfect melding of enthralling gameplay with cerebral simulation that will keep you coming back for more. So whether you're a puzzle enthusiast or just looking for an exciting gaming diversion to pass some time, Space Match3 is nothing short of an out-of-this-world experience.
What are the best online games?
TAGS