Solitaire 15 in 1 Collection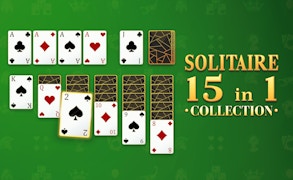 Solitaire 15 in 1 Collection
Description
Welcome to Solitaire 15 in 1 Collection, the ultimate solitaire challenge bringing together the best of solitaire variants. This game offers a magnificent array of 15 different solitaire games, each with its own unique rules and gameplay mechanics. From classic options like Klondike and Spider, to lesser known varieties, there's a world of strategic complexities waiting for you.
How to play
Each of the 15 games in this collection will have its own unique card layout and goal, but the general controls are simple - click and drag to move cards. The primary objective is usually to arrange all cards by suit and rank. For detailed instructions on each variant, click on 'Help' button within the game.
Tips and Tricks
Always aim to reveal hidden cards as soon as possible. Using the undo button wisely can increase your chances of winning. Don't hurry, take your time to plan your moves ahead - thoughtful strategy goes a long way in playing successful Solitaire.
Features
Vast selection of 15 different Solitaire games.
Sleek, intuitive interface for easy navigation.
'Help' option for a comprehensive guide on each game variant.
Undo function to correct mistakes or explore different strategies.
What are the best online games?
Tags