Soccer.io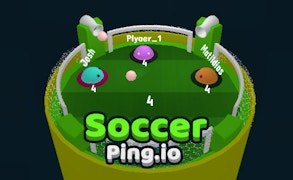 Soccer.io
Step right onto the digital pitch with Soccer.io, a unique blend of classic soccer games and popular .io gameplay that will truly test your skills. From the developers that have seamlessly combined the thrill of ball games with the captivating mechanics of .io, comes a vibrant game to dominate your leisure hours.
In Soccer.io, players are thrown into a soccer arena, tasked with fending off attacks from all sides while simultaneously trying to knock balls into opponents' goals. With each successful goal, you grow in size, increasing your defenses and dominating presence on the field. However, get scored on four times and it's game over - you're out!
The controls of this game are incredibly intuitive - everything boils down to smooth mouse movements. This easy-to-learn but hard-to-master feature is what makes Soccer.io stand out among other skill games, offering up a challenge for novices and seasoned gamers alike.
The fast-paced action tied with strategic decision making makes Soccer.io an addictive gaming experience you won't want to put down. One moment you could be soaring high off a major scoring streak, the next trying desperately to defend against an onslaught of balls heading for your goal.
In conclusion, Soccer.io redefines the genre of online soccer games by integrating .io dynamics into its gameplay. It's not just about scoring goals or defending your net—it's about outlasting and overpowering your opponents in this enthralling arena of soccer warfare. For those who find joy in ball games or are looking for challenging skill games, Soccer.io offers an experience unlike any other.
What are the best online games?