Sniper Attack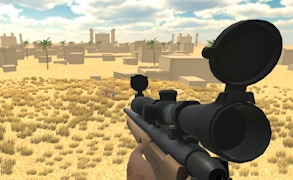 Sniper Attack
If you're a diehard fan of sniper games, gulping down adrenaline as you focus your reticle on an unsuspecting hostiles, then Sniper Attack is a game you must experience. Tailored for those who relish the thrill of long-distance gunfights and stealthy eliminations, Sniper Attack refurbishes the classic sniper archetype with a modern twist.
The title prides itself in offering a realistic sniper mode, completely immersing players in the skin of an elite marksman. The ability to zoom in for a clearer focus on your targets is not just an aesthetic feature but an essential tactical resource, adding another layer of complexity to this exciting addition to the gun games genre.
I was particularly thrilled by Sniper Attack's versatility when it comes to map choices. With two distinct maps to choose from, every mission felt like a fresh challenge and would provoke even seasoned players into rethinking their strategies. The main objective—to eliminate all enemies— may seem simple but achieving it requires precision, patience and expert decision-making skills typical of high-quality war games.
The creators of Sniper Attack have excelled in crafting a game that seamlessly unites skill and entertainment. This game demands your concentration but rewards you with an exhilarating sense of accomplishment. Few games can replicate the satisfaction derived from finalizing a successful sniper attack. The design, functionality, and feel place this game high up in the realm of shooting games.
To sum up, Sniper Attack is an exciting confluence of tactical maneuvers, strategizing prowess, stealth mechanics, and long-distance shootouts. It's engaging, challenging and incredibly addictive—a title that genuinely does justice to the legacy of sniper-centred gun and war games.
What are the best online games?