Slope Game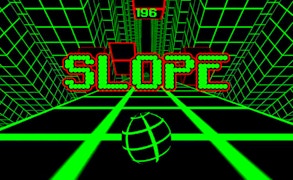 Slope Game
The endless runner is a kind of game that arose with the popularity of mobile gaming and it has taken many forms, like Slope Game. Return to the Matrix-style version of the virtual world with lots of green and black as you try to navigate the endless course ahead of you. The hero this time around is a ball of questionable sentience with the purpose to roll and keep on rolling as just another entity affected by gravity. The thing is that with your influence, you can keep the ball safe as you and its dream of the goal at the end of the road.
About Slope Game
Slope is simple in both title and gameplay which suits it just fine. As far as endless runners go, this one works with just the basics while still making it challenging. It's not all about collecting flashy powerups and currency since you're entirely focused on the sections that are coming up. There are a variety of dangers and there's no way to anticipate them until you're actually soaring towards them. The simplicity quickly sucks you in and you enter a state of believing you can get a little bit further every time you try.
How to Play
The game doesn't beat around the bush from the moment you click on "Play". As the ball starts rolling, you get a crash course (perhaps literally) on how to control the ball. Gravity does all the work as the ball starts rolling and won't stop until it crashes or falls. There may not be an end, but your goal is to get as far down the digital slope as you can.
PC Controls
There are only two buttons that you'll need to play the game from your keyboard:
Left Arrow/A/Q - Steer ball left
Right Arrow/D/E - Steer ball right
By doing this, you need to keep the ball on the borderless track while avoiding obstacles. Anything dangerous that appears in your way will be a noticeable red color. These objects can take the form of stationary or moving blocks as well as tunnels with red walls. If you hit any of these or fall off the sides, the run ends.
Tips and Tricks
There's not much strategy that you can apply to Slope Game since you need to react based on the section that loads. The most you can do is always aim to keep the ball as close to the center as possible. This allows you to have a good starting point as you hit the ramp and then you can start steering as needed based on the hazards that have loaded in.
Game Details
Developer: RobKSF
Platforms: Web Browser (PC and mobile) and Android
Languages: English
Gameplay Footage
FAQs
Where can I play Slope Game?
Slope is currently available to play on your web browser by visiting the game page on GamePix through PC and mobile. There's also an app version available for Android devices, but it may not be compatible with certain phone models.
Is there an ending to the game?
As it stands right now, the game seems to go on forever with the only objective being to get the highest score that you possibly can.
Games similar to Slope
Due to the speed of play, GamePix has placed this game into the Racing Games category among others. If you do have a need for speed, check out this category to find games like Ultimate Flying Car, Sports Car Drift, and Car Eat Car. For more endless runners, just type the word Runner into the GamePix search bar for tons of results.
What are the best online games?