Slenderman Must Die: Dead Space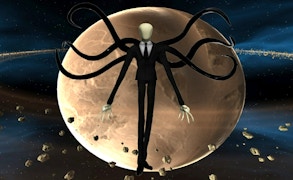 Slenderman Must Die: Dead Space
Welcome to a game review of Slenderman Must Die: Dead Space, a unique amalgamation of gun games, survival games, horror games, scary games, and sniper games. It offers an adrenaline-pumping gaming experience that transcends the conventional realm of Slenderman games.
The year is 2496, and your spaceship has run out of energy. You are compelled to dock on an eerie, abandoned space station brimming with untold dangers in your quest for 13 energy cells. Survival becomes a paramount goal as the narrative unravels with twisted turns and dark secrets.
The game redefines horror and scary games, introducing an impressive array of weapons as you traverse through the chilling space station corridors. Unlike other Slenderman iterations, this game comprises intriguing gunplay mechanics, adding the thrill associated with gun games and sniper games.
The suspense intensifies as you uncover the clandestine military experiments that shroud this seemingly deserted station. Yet, you quickly realize... It is not abandoned! The uncanny presence lurking in every corner will have your pulse racing in this nightmarish space odyssey.
Every element in Slenderman Must Die: Dead Space is meticulously crafted to keep you gripped at the edge of your seat. From the terrifying antagonist to the atmospheric environment oozing existential dread, it encapsulates everything you'd want from survival and horror games.
In conclusion, this game brings together elements from various genres like gun sections reminiscent of classic sniper games while never straying from its horror roots. An absolute must-play for fans of survival, horror, scary or shooter genres!
What are the best online games?