Skibidi Toilet Shooter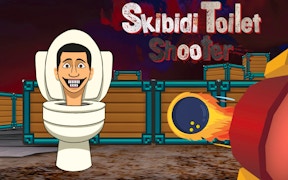 Skibidi Toilet Shooter
Description
In Skibidi Toilet Shooter, you're tasked with taking down an army of unruly toilets. Set in an intriguing world where toilets are malicious and ambitious, your mission is to halt their global takeover. This fast-paced shooting game demands precision and quick reflexes as you go against these freaky foes. A fun-filled challenging gameplay that keeps the thrill alive every second.
How to Play
The control scheme of Skibidi Toilet Shooter is easy to grasp. On desktop, use the arrow keys on your keyboard to maneuver your character and the space button to shoot at the Skibidi toilets. For mobile users, the screen holds arrow buttons for movement and a shoot button placed on the bottom left corner for launching attacks.
Tips and Tricks
The speed of the game requires swift reflexes. Always be on the lookout for sudden attacks from Skibidi toilets. Aim well before shooting, wasted shots could cost you crucial time and loss of power. Keep moving to dodge attacks while simultaneously firing back for maximum damage.
Features
Frenzied action-packed gameplay.
User-friendly controls for both desktop and mobile devices.
A unique antagonist - Skibidi toilets.
A blend of humor and intensive shooting experience.
What are the best online games?