Sea Adventure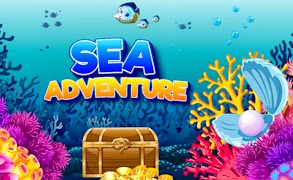 Sea Adventure
Description
Dive deep into the exciting world of Sea Adventure Online Game, an engaging arcade game that lets you embark on various oceanic escapades. As a player, you can delve into activities like fishing and hunting while traversing the globe's vast oceans. This exploratory game is free-to-play and offers an alluring setting for adventure enthusiasts.
How to play
The controls of Sea Adventure Online Game are straightforward. Use your mouse or touchpad to guide your character through different tasks. Fishing activities require precise clicks or taps at the right moment to catch your prey. With each successful catch, you earn points that help you progress further into the game, unlocking new adventures.
Tips and Tricks
To excel in this game, timing is key. Stay alert and be responsive to get the best out of your fishing sessions. Navigate carefully to avoid dangerous sea creatures during your hunting expeditions. Accumulate as many points as possible for a higher ranking on the leaderboard.
Features
Free-to-play: Absolutely no cost associated with gameplay.
Vast Exploration: Discover different oceans across the globe.
Diverse Activities: Engage in fishing, hunting, etc.
User-friendly Controls: Easy to navigate using mouse or touchpad.
What are the best online games?
Tags