Sand Balls Falling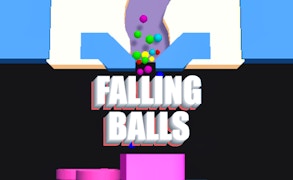 Sand Balls Falling
Description
Relax and immerse yourself in Sand Balls Falling, a delightful arcade game. The goal is to guide falling sand balls into a container by clearing obstructions in their path. As you progress, the game presents intricate levels with increased difficulty, traps, and ball magnets. You earn points upon completion of each level, which can be used to purchase new ball shapes.
How to play
Move your mouse or swipe your finger on the screen to remove obstacles and guide the sand balls towards the container. There's no time limit, so take your time and plan your moves carefully. Be cautious of traps and ball magnets, which can pull your balls off course. Accumulate points by successfully filling the container and use these points to buy new ball shapes.
Tips and Tricks
Avoid rushing; remember there's no time limit. Study the level layout before removing blocks and always be wary of traps or magnets that might interfere with your balls' trajectory. Save up points for spectacular ball shapes, which will make the game even more enjoyable.
Features
No Time Limit: Play at your own pace.
Tons of Levels: Keep challenging yourself as levels get harder.
Fascinating Traps: Use caution to avoid trap-induced obstacles.
Ball Magnets: Adds an extra layer of challenge, pulling balls off course.
Different Ball Shapes: Collect points and buy new, fun shapes for your balls.
What are the best online games?
Tags