Round jigsaw Puzzle - Collect Kitten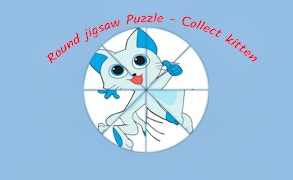 Round jigsaw Puzzle - Collect Kitten
Description
Immerse yourself in the adorable world of kittens with Round Jigsaw Puzzle - Collect Kitten. This charming brain game is designed to test your puzzle-solving skills, as you piece together images of cute cats. Each puzzle presents a unique round jigsaw challenge that grows in complexity as you progress through the game. The satisfaction of completing a puzzle unleashes a delightful image of a kitten.
How to Play
To play Round Jigsaw Puzzle - Collect Kitten, simply click and drag the pieces to fit them into their correct place. Try to picture the final image in your mind and look for specific colours or shapes that match. The game progresses as you complete each round puzzle, which increases in difficulty. Each successfully completed puzzle reveals a kitten image.
Tips and Tricks
Begin by solving the outer edges of the jigsaw puzzle, which are easier to identify. Look for similar colors or patterns to find pieces that fit together, and don't rush - take your time! Remember to continuously refer back to the original silhouette of the kitten image when stuck.
Features
Adorable kitten images for every completed round jigsaw puzzle.
Intriguing brain game that tests your problem-solving skills.
A variety of levels with increasing difficulty.
Soothing background music creates an enjoyable gaming atmosphere.
What are the best online games?