Rotating Bones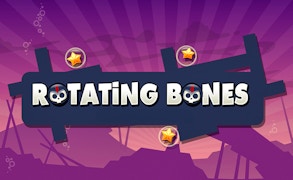 Rotating Bones
Description
In Rotating Bones, a delightful platform puzzle game, there's an interesting twist. You literally have to rotate the gaming world to help the cheery Mr. Bones recover his misplaced stars. With 40 challenging levels, this game is not just about fun, it also stretches your strategic and logical thinking abilities. Charming graphics and intriguing game physics further enhances gameplay.
How to play
The mechanics are quite simple. The world of Mr. Bones moves as you rotate your device, creating a path for him to reach his stars. The fun lies in creating the appropriate inclines and routes for Mr. Bones to safely navigate each level, dealing with obstacles along the way. Remember, strategy and precision are keys to success.
Tips and Tricks
Avoid hasty movements; sometimes slow and steady wins the race! Be assured, there's always a way out so don't get disheartened if you are stuck on a level. Pay close attention to the direction of rotation, it can make a difference between brilliance and failure.
Features
Comes with 40 different challenging levels.
Specially designed for children but enjoyable by all age groups.
Brain stimulating fun for the whole family.
Cute graphics that keep you engaged.
Precise game physics enhancing challenge quotient.
Great sound effects adding ambiance.
What are the best online games?