Ropeman 3D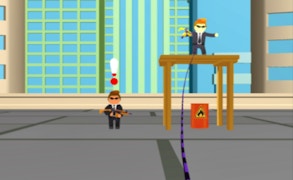 Ropeman 3D
Unveiling the world of Ropeman 3D, a game that truly exemplifies the best in the realm of battle games. This fighting torrent packs a punch in terms of gameplay, storyline, and graphics. It thrashes the line between reality and fantasy, giving gamers a thrilling experience like never before.
Envision having a pair of almighty hands capable of controlling the elements and fending off any malicious attack. Ropeman 3D transforms this dream into an immersive reality. This isn't just your everyday Skill Games; it's an exhilarating journey that trickles adrenaline into your veins through heart-racing, riveting battles.
Venture into an underworld filled with force and might as you navigate through portions of gangster games within Ropeman 3D. It's like being dropped in a frenzied universe where only the fittest survive. The game presents challenges that test your agility, strategic acumen, and resilience - honing your gaming skills to their peak.
Every element of Ropeman 3D is crafted meticulously to give you an enthralling experience. The graphics dance on the razor edge of surrealism, making every character exude life-like emotions. As for the gameplay, it's crisp and smooth, ensuring that every movement feels organic and responsive.
The beauty of Ropeman 3D lies in its simplicity cloaked within complexity - easy enough for newcomers to hop on board but intricate enough to keep veteran gamers enthralled. It truly encapsulates what battle games should be all about: strategy, skill, and thrill.
In conclusion, Ropeman 3D takes you on an exciting jaunt through intense battles filled with suspenseful moments and heart-stopping maneuvers. Whether you're a fan of skill games or gangster games - this is one game you don't want to miss out on!
What are the best online games?