Roller Ski Queen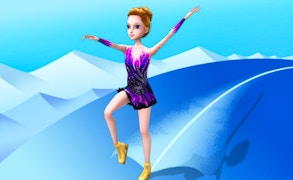 Roller Ski Queen
Enthusiasts of skateboard games and skill games brace yourselves for an icy extravaganza of exhilarating speed and dazzling leaps, as you ascend to the throne of the skating world in the captivating game - Roller Ski Queen. As a sport-themed game, it draws players into a winter wonderland where their skills are put to an ultimate test!
In the cold, crisp air and glimmering ice rinks, you'll twirl, flip, and speed your way through immersive challenges. With every sharp blade collected, your power to obliterate boundaries accelerates. As your character shreds through obstacles with her razor-sharp blades, you'll feel a rush of adrenaline that only top-tier skateboard games can elicit.
Roller Ski Queen's gameplay offers not just a display of athletic prowess but also an opportunity to express your personal style. The in-game currency lets you purchase chic ski clothes. You'll be more than just a sports superstar; you're going to be a stylish diva whose graceful moves are accentuated by her enviable wardrobe.
This isn't just another addition to the sea of generic skill games. With its engaging concept, precise controls, smooth graphics and player-friendly monetization mechanism it stands out. Players navigate their way through intriguing turns and challenging hurdles, honing their skills every step of the way.
If you've got what it takes to conquer the ice and want to immerse yourself in one of the best skateboard games, then step into your skates and become the shimmering star on ice with Roller Ski Queen. It's not just about winning; it's about being visually stunning while doing so. Enjoy and best of luck!
What are the best online games?