Rainbow Friends VS Skibidi Toilet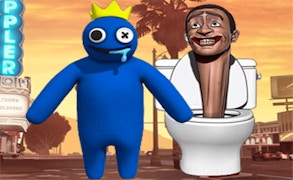 Rainbow Friends VS Skibidi Toilet
Description
In Rainbow Friends VS Skibidi Toilet, you enter a world of vibrant colors and quirky characters. This uniquely-themed fighting game pits the extraordinary Rainbow Friends against the peculiar Skibidi Toilet in epic boxing matches. Tensions rise and punches fly as you work your way up the ranks while experiencing hilarious graphics and amusing sound effects.
How to play
Control your character with arrow keys or WASD keys for movement, while using 'J', 'K', 'L' keys for various attacks. Advance in the game by winning matches, gaining points, and unlocking new characters. Keep an eye on your health bar; once it's depleted, it's game over!
Tips and Tricks
Master the art of dodging, it's crucial to avoid opponent's punches. Learn to switch between high-speed attacks and strong slow-paced blows tactically. Use the environment cleverly as an advantage during fights, some areas provide unique features to aid you in battle.
Features
Multicolored Graphics : stunning visual designs that give an eccentric appearance to characters and arenas.
Diverse Characters : variety of unique characters each with distinct fighting abilities.
Battle Ranking : a progression system that ranks you based on your victories.
Ambient Sound Effects : amusing sounds that enhance gaming experience.
What are the best online games?