Professor Bubble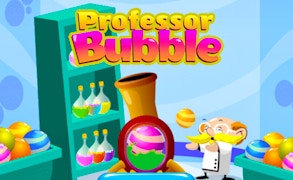 Professor Bubble
Description
Immerse yourself in the vibrant and dynamic world of Professor Bubble. This exceptional bubble shooter boasts an intricate design interface and a captivating sound design. Regardless of your device preference, this game optimizes gameplay for a seamless experience. The primary aim is to hit the bubbles with precise shots; hence, it's virtually impossible to miss.
How to Play
The control scheme of Professor Bubble is straightforward, employing a mouse on a computer or touch screen on portable devices. The goal is to shoot and match as many bubbles as possible to advance levels. Your progression in the game depends on your accuracy in shooting bubbles.
Tips and Tricks
To excel in this game, your focus should be on developing precision. Also, it's important to understand the bubble patterns before releasing your shot. Improved aim will eventually increase your chances of achieving higher scores.
Features
Designer Interface: Aesthetically appealing visual composition.
Diverse Platform Support: Enjoyable and adaptable across computer screens or small gadgets.
Optimized Controls: Simple and easy-to-use mouse or touchscreen inputs.
Ambient Sound Design: Enhances the overall gaming experience with engaging sound effects.
What are the best online games?
Tags