Pixel Us Red and Blue 2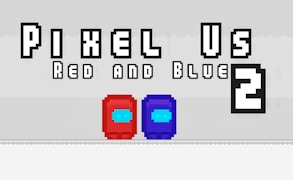 Pixel Us Red and Blue 2
Description
In Pixel Us Red and Blue 2, the sequel to the popular arcade game, you continue your strategy-based journey with the cute alien impostors, red and blue. These extraterrestrial friends are stranded in a pixelated world full of perils. Their main objective? Reach their respective flags amidst challenging creatures. Each level brings a new array of obstacles and puzzles, making sure gameplay is always fresh and fun.
How to play
The controls are smooth and easy-to-learn. For one player, you can use WASD keys for movement and navigation, while the other player uses Arrow keys. There's also a bonus double jump feature, useful for evading danger or reaching higher platforms. The synergy between two players is crucial to surpass each level.
Tips and Tricks
Stay alert! The game's difficulty gradually increases with each level. Essential techniques include smart timing of jumps, adept use of the double-jump feature, and effective teamwork between players. Also remember that some creatures can be outsmarted rather than outmaneuvered.
Features
Multilevel Gameplay: Each level brings its unique set of challenges requiring new strategies.
Cute Pixel Art: Engaging retro-style graphics enhances overall game experience.
Two-player Mode: Equally fun whether you're teaming up with a friend or playing alone controlling both characters.
Puzzling Obstacles: An array of traps and creatures to dodge—and sometimes outwit—to ensure non-stop excitement.
What are the best online games?