Piano and Drum for Kids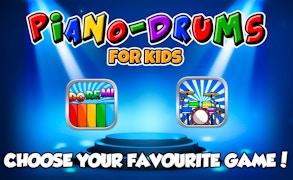 Piano and Drum for Kids
Description
Welcome to Piano and Drum for Kids, an enchanting musical journey designed specifically for children. It introduces the fascinating world of music to children through two of the most popular instruments - piano and drums. In it's interactive gameplay, this game beautifully combines fun with education, helping kids develop musical skills as they enjoy playing their favorite tunes on a digital platform.
How to Play
The game is incredibly user-friendly. For the piano, kids are presented with a rainbow-colored keyboard that plays notes when keys are tapped. For the drums, there are drum images that create different sounds when touched. The game progresses as kids learn and play more tunes. No previous musical knowledge is required.
Tips and Tricks
Encourage your children to experiment with different combinations of notes and beats. This not only enhances their creativity but also their understanding of how different sounds can work together in harmony. Try to recognize familiar tunes or invent new ones!
Features
Educational: Perfect for enhancing kids' cognitive abilities in a fun way!
Interactive: Kids can actively participate by creating their own music.
User-friendly: Simple navigation ensures a smooth gaming experience.
Vibrant Colors: Attractive design keeps children engaged while learning.
What are the best online games?