Piano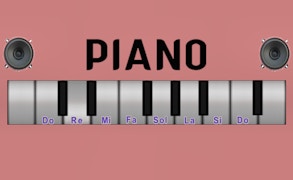 Piano
Description
Embark on an enchanting journey into the world of music with Piano, an interactive learning game perfect for kids. Navigate through various levels that get progressively more challenging, as you master the art of playing piano notes. Using a colorful, intuitive interface, each note you play allows you to uncover new melodies and pieces of music.
How to play
The game is simple, fun, and easy to navigate. When a musical note appears on the screen, press the corresponding key on your virtual piano to play it. As you progress through the game, the tempo will increase slowly and multiple notes may appear simultaneously for a more challenging and realistic piano-playing experience.
Tips and Tricks
To excel in this game, practice is key! Try playing the same level multiple times to perfect your rhythm and timing. Pay careful attention to sequences of notes that repeat often - mastering these patterns will help you level up faster.
Features
Colorful Interface: eye-catching graphics make the gaming experience enjoyable and fun for kids.
Variety of Levels: Offers a range of levels from beginner to advanced for a progressive learning experience.
Educational: The game nurtures musical skills while teaching basics of piano playing.
User-Friendly Controls: Simply press the corresponding piano key as each note appears onscreen.
What are the best online games?