Phone for Baby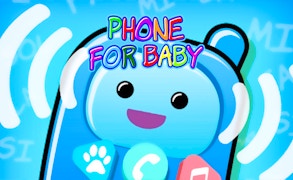 Phone for Baby
Description
Step into the vibrant world of Phone for Baby, an engaging, educational children's game designed specifically to enhance your child's learning. It integrates classic nursery rhymes, adorable visuals, enchanting songs and a captivating number-learning platform rolled into one interactive package. Your child will be immersed in a fun-filled environment while assimilating vital early life skills. And the best part? It's entirely free!
How to play
The game interface is kid-friendly & intuitive. All your child needs to do is tap the screen to unveil a world of educational delight. With each tap, they uncover a new number or play a delightful rhyme that will keep them enthralled and learning. The progression system in the game ensures your child systematically learns and grasps numbers in a comprehensive manner.
Tips and Tricks
Encourage interaction: The more your child interacts with the game, the faster they learn. Praise progress: Celebrate their achievements to boost their confidence and enthusiasm for learning. Extend learning beyond the game: Use everyday situations to reinforce what they've learnt in the game.
Features
Friendly and easy-to-use interface for kids.
Incorporates classic nursery rhymes and enchanting songs.
Educational platform focusing on number learning.
Captivating graphics that children will love.
No in-app purchases - completely free game!
What are the best online games?